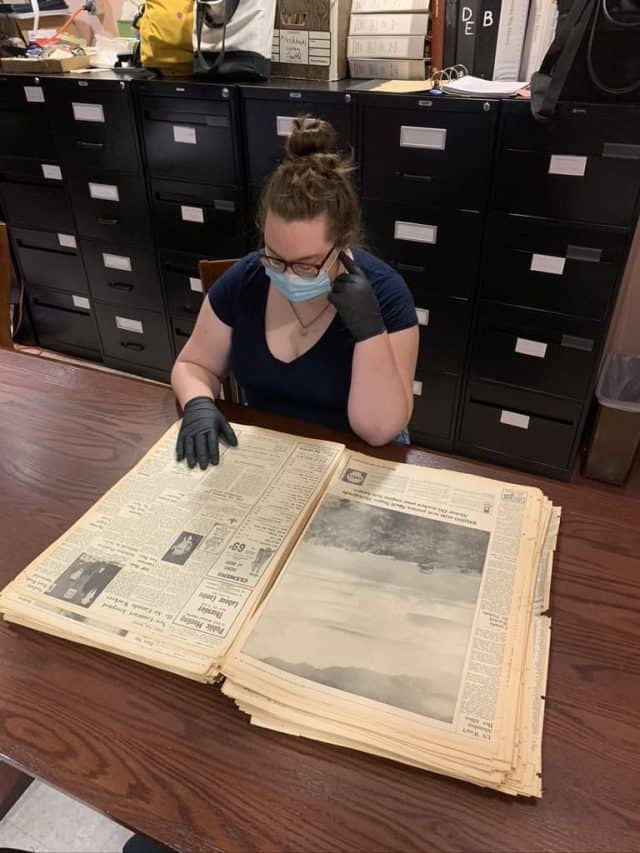 The Thunder Bay Museum possesses a rich collection of resources to assist researchers in learning more about the history of the Lakehead and Northwestern Ontario.
Appointments are necessary to utilize our research facilities.
For requests from those who cannot visit our research room in person we will make reasonable efforts to assist with the research based on staff resources available at the time. Your patience and understanding are appreciated.
Thanks to a grant from the Documentary Heritage Communities Program the Thunder Bay Museum is able to offer an online inventory of its library catalogue.
The Dr. Thorold "Tory" Tronrud Research Library
The Thunder Bay Museum has a special, non-lending library of over 2,700 books about the city of Thunder Bay and its predecessor communities, as well as the region of Northwestern Ontario. This includes rare volumes that are unlikely to appear elsewhere and books that reference specific types of artifacts that exist among the Museum's holdings.
Access to the library is open weekdays from 9am to 5pm, by appointment. Contact the Museum to arrange for access.
Library's Dedication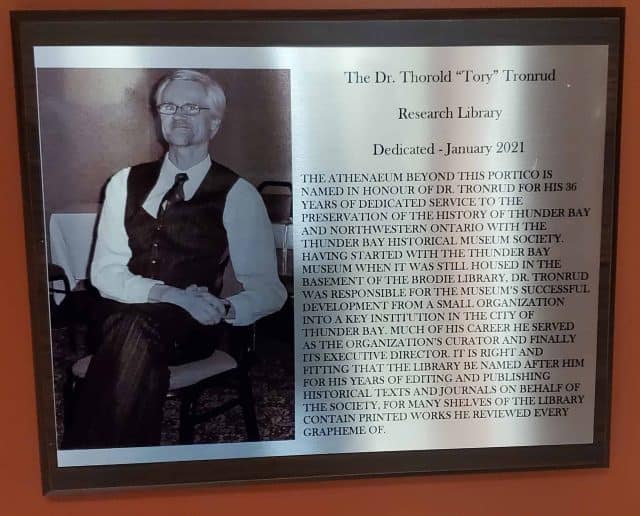 The Museum's library was dedicated in Dr. Thorold "Tory" Tronrud's name in January of 2021 in honour of his 36 years of dedicated service to the preservation of the history of Thunder Bay and Northwestern Ontario with the Thunder Bay Historical Museum Society.
Having started with the Thunder Bay Museum when it was still housed in the basement of the Brodie Library, Dr. Tronrud was responsible for the museum's successful development from a small organization into a key institution in the City of Thunder Bay.
Much of his career he served as the organization's curator and finally its executive director. It is right and fitting that the library be named after him for his years of editing and publishing historical texts and journals on behalf of the Society, for many shelves of the library contain printed works he reviewed every grapheme of.